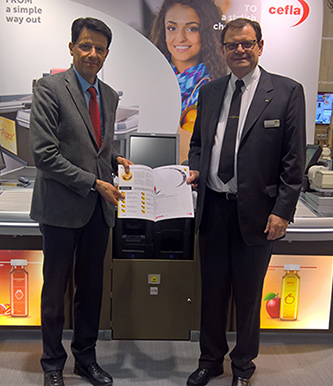 We are happy to announce that Cefla Shopfitting, a business unit of Cefla, a consolidated international multi-business company and long-standing Interroll customer has entered our global Rolling On Interroll program.
Founded in 1932 as a cooperative organisation specialised in electric, plumbing and heating systems, Cefla today is a consolidated multi-field company working at world level and focused on innovation in its products and services.
The recent Euroshop 2017, the key trade fair event held last 5th – 9th March in Düsseldorf, saw Cefla Shopfitting play a pivotal role as an interlocutor capable of satisfying our customers' every need, starting with retail design, format planning and floorspace customisation. This year's edition proved to be highly positive in terms of the flow of visitors to the Business Unit's stand, which showcased numerous important new products.
The Rolling On Interroll quality seal, visual sign that a machine or conveyor line is powered by high-quality drive technology that will give the end user peace of mind, was displayed on the checkout counters on the Cefla booth and created interest from numerous visitors.
Welcome to the Rolling On Interroll community, Cefla Shopfitting!